Reliability: encouraging the right amount of investment in the power system's long term capacity
Australia must have enough electricity available when people need it, and at the lowest cost. We want to encourage the right amount of investment in the power system's long-term capacity so the operator isn't forced to intervene more than necessary with higher cost safety-net options. We are expanding the framework to encourage the efficient adoption of new technologies and more transparent information so decisions made by market participants, the operator, regulators and policy makers are better informed.
We are also working on adapting the intervention framework including directions, instructions and strategic reserves so it is fit for the changing power system and only used when necessary. 
See more about transitioning to a lower emissions power system.
System security: making sure the power system can be operated within the correct technical range 
As the generation mix changes we need new ways to control frequency when the wind stops blowing and the sun stops shining. Frequency varies whenever electricity supply does not exactly match consumer demand and uncontrolled changes in frequency can cause widespread blackouts. This year we have worked on an extensive package of new rules to enable new technologies and service providers to provide frequency control services. The program will develop over time in response to AEMO-led trials particularly in relation on how new business models like virtual power plants can be integrated. 
Reliability work plan
The national electricity market is designed to have enough generation capacity to meet consumers' demand for power. This capacity is provided through:
generation – from large, centralised generators like hydro, coal and gas plants and wind and solar farms, as well as decentralised generation like rooftop solar 
demand response – when customers agree to reduce their electricity use in return for a payment or other reward. 
In July 2018 the AEMC published a final report into NEM Reliability frameworks which looked at:
market mechanisms that guide investment and operational decisions to deliver reliable power supply, and
tools that can be used to intervene if the market doesn't deliver reliable power supply.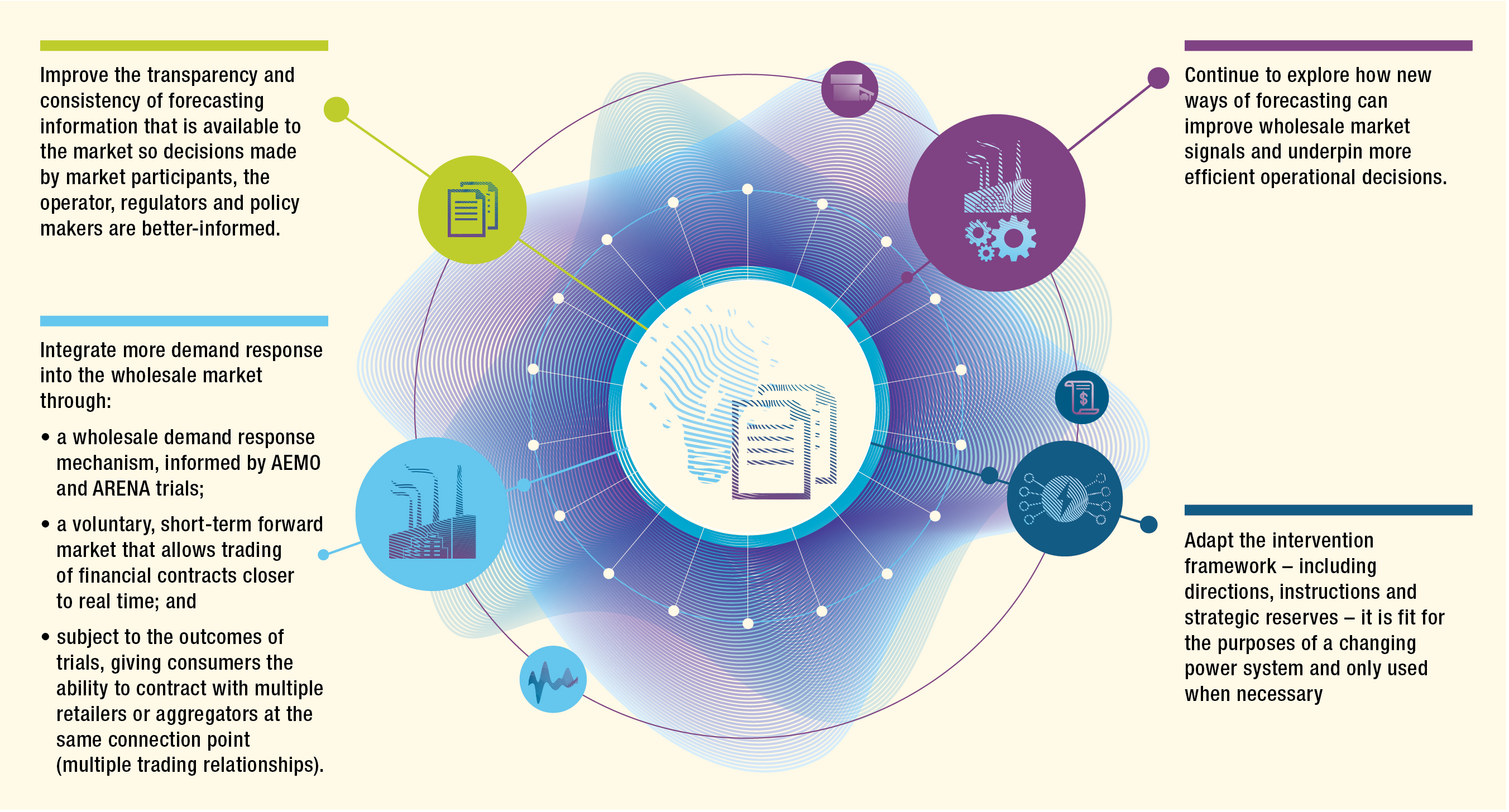 Learn more about our Reliability work plan
Frequency control work plan
The frequency of the power system varies whenever the electricity supply does not precisely match customer demand. The gradual shift toward more variable sources of electricity generation and consumption, and difficulties in predicting this variability, increases the potential for imbalances between supply and demand that can cause frequency disturbances. At the same time, there has been a reduction in the frequency control services provided by conventional technologies, which is requiring newer technologies to innovate to provide these services.
The Commission has already introduced a range of new tools and obligations to address the immediate system security needs of the transforming system. Our Frequency control frameworks review recommended further changes to the market and regulatory frameworks to maintain effective frequency control as the generation mix changes.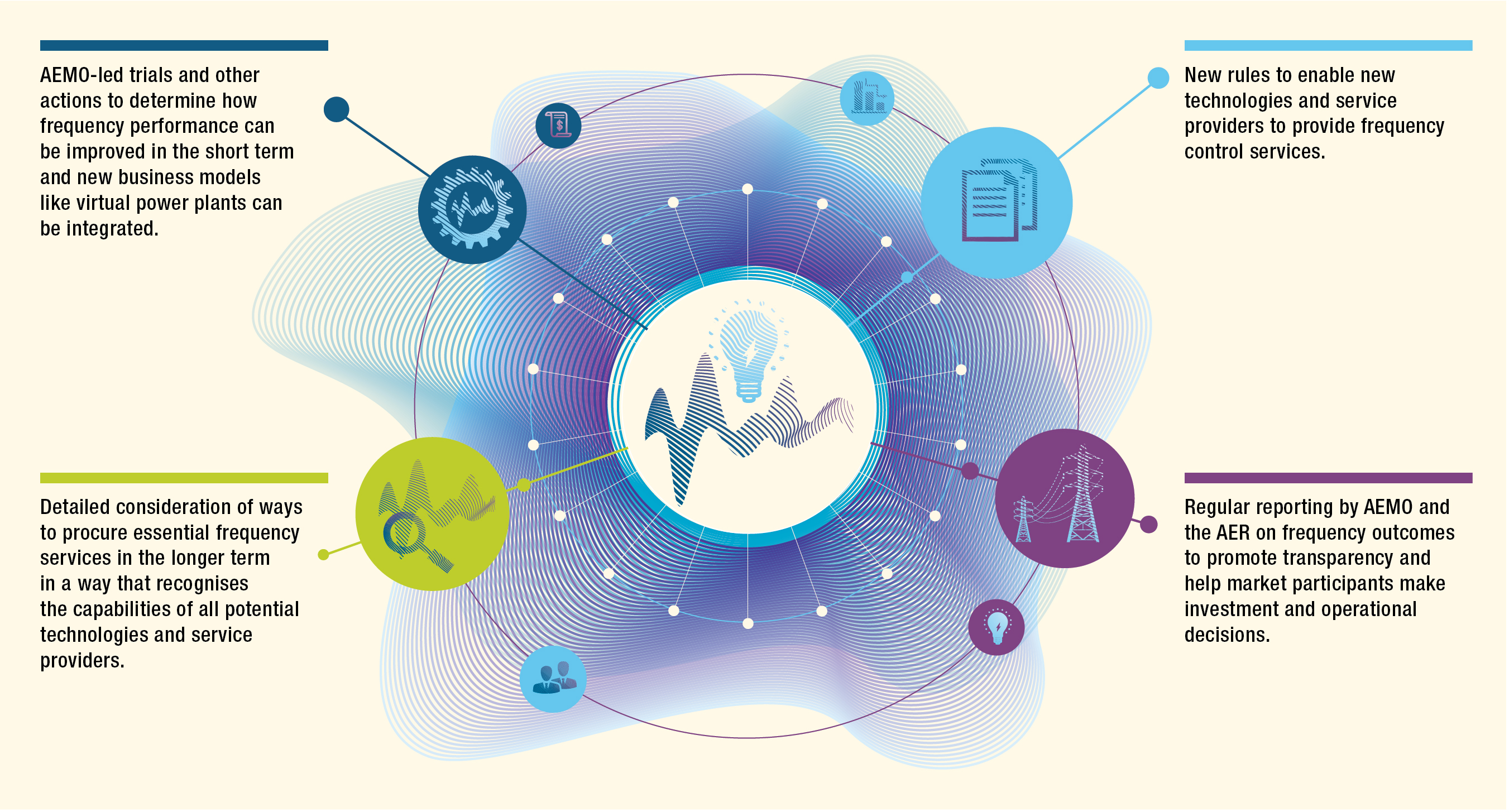 The final report for the frequency control frameworks review included a work plan that documents actions being undertaken by AEMO, the AER and the AEMC to address the issues identified through the review in relation to frequency control.
Learn more about our Frequency control work plan.
AEMC's system security and reliability action plan
The AEMC's system security and reliability work program is focused on developing market frameworks which allow continued take-up of new generating technologies while keeping the lights on at the least cost to consumers.
In March 2019, as part of our 2019 Review of the coordination of generation and transmission investment, we started consultation on proposed reforms to:
the way generators access and use the electricity transmission network
charging arrangements which enable transmission businesses to recover the costs of building and maintaining transmission infrastructure, both within and between regions.
In January and February 2019 we initiated two rule change requests from the Chair of the Energy Security Board to streamline the regulatory process for priority projects identified in AEMO's Integrated System Plan. The proposed projects are:
The requests are part of the AEMC's recommended reforms to the transmission framework to help support the large amount of new generation connecting to the grid in the coming years.
In December 2018 we published a final report for our Review into the coordination of generation and transmission investment. The report recommends a comprehensive reform package to improve the coordination of investment in electricity generation and transmission to help protect consumers from paying too much.  
Also in December 2018 the Reliability Panel published a draft determination for its Review of the Frequency operating standard review. On the advice of AEMO, the Panel maintained the existing settings in the frequency operating standard in relation to these issues, noting that the immediate priority is the joint AEMC-AEMO frequency control work plan.
In November 2018 we made a final rule making generators to give at least three years' notice before closing.
In September 2018 we:
made significant changes to technical performance standards for generators seeking to connect to the national electricity grid, and the process for negotiating those standards. Under the final rule, a connecting generator's technical requirements are matched to local power system needs rather than a one-size-fits-all approach. This is key to keeping costs down for consumers.
 
made a new rule for AEMO to establish a register of distributed energy resources, including small-scale battery storage systems and rooftop solar. The register will give network businesses and AEMO visibility of where distributed energy resources are connected to help in planning and operating the power system as it transforms.
Also in September 2018, the Reliability Panel started its annual review of the reliability, security and safety of the national electricity market for the period July 2017 to June 2018. The review is designed to help governments, policy makers and market institutions monitor the performance of the power system, and identify improvements to the various measures available for delivering reliability, security and safety. A final report is due by the end of June 2019.
In July 2018 we:
made a final rule making the AER responsible for calculating and updating values of customer reliability, which are used to develop reliability standards.
 
published a final report for our Frequency control frameworks review  which recommended further changes to the market and regulatory frameworks to maintain effective frequency control as the generation mix changes.
 
published a final report for our Reliability frameworks review. This review considered the regulatory and market frameworks needed to support a reliable supply of electricity as the power system transforms to include more variable, intermittent generation and demand-side innovation.
In June 2018 we reinstated the long notice reliability and emergency reserve trader (RERT) scheme to allow AEMO to procure generation and demand response capacity nine months ahead of a projected reserve shortfall. The RERT is a type of strategic reserve available to AEMO to help avoid blackouts. Also, we are currently considering a rule change request from AEMO for broader changes to the RERT framework. A draft determination was published in February 2019 for stakeholder comment.
In May 2018 we published a new rule to improve the transparency and consistency of medium term reliability forecasts to signal whether or not electricity supply is projected to meet demand in the medium-term.
In April 2018 the AEMC's Reliability Panel  published its four-yearly review of the reliability standard and market price settings – a set of parameters that bear on price, investment and ultimately reliability in the national electricity market. The Panel found that the current standard and balances the prices consumers pay for electricity against the cost to consumers of not having electricity there when it's needed.
In December 2017 we made a new rule to redefine the conditions when AEMO it can declare a lack of reserves (LOR) and signal to the market that electricity reserves are running low. 
In September 2017 we made final rules to:
manage power system fault levels – keeping the system stable by making networks provide minimum levels of system strength at key locations, and requiring new generators to pay for remedial action if they impact system stability
improve guidelines for generating system models – requiring generators and networks to provide more detailed information about how their equipment performs so AEMO and networks have the right data to efficiently plan and operate the system.
In March 2017 we made a final rule to help protect the power system from emergencies through a new management framework for emergency frequency control schemes. These are 'last line of defence' mechanisms such as controlled load shedding, designed to protect against a major blackout if a sudden and unexpected loss of generation or load causes rapid changes in system frequency. The new rules require AEMO to regularly and transparently assess emerging risks caused by swapping out older synchronous generators, for non-synchronous generation technology like wind and solar.