Frequency control work plan
The final report for the AEMC's Frequency control frameworks review was published in July 2018. The report details a frequency control work plan that sets out actions the Commission, the Australian Energy Market Operator (AEMO) and the Australian Energy Regulator (AER) will take to support the stable and secure operation of the power system in relation to frequency control.
Stable frequency is an important part of maintaining a secure power system. Frequency varies whenever electricity supply does not exactly match consumer demand and uncontrolled changes in frequency can cause blackouts. As the generation mix changes to include more variable generation we need new ways to control frequency to deliver better frequency performance across the system.
To date, the AEMC has made a number of rule changes to address the immediate system security needs of the transforming system. This includes requirements for networks to provide minimum levels of inertia and system strength, and new 'last line of defence' schemes to help AEMO better prepare for, and respond to, a system security emergency.
The AEMC's frequency control work plan, which is now underway, sets out actions to make the most of existing equipment as well as harnessing the power of new technologies to help keep the power system stable. It includes new rules and operating techniques, and more transparent and regular reporting of frequency performance to inform investment and operating decisions.
A current focus of the work plan is the AEMC's consideration of three rule change requests received in relation to the provision of primary frequency response by registered generators in the national electricity market.:
Frequency control work plan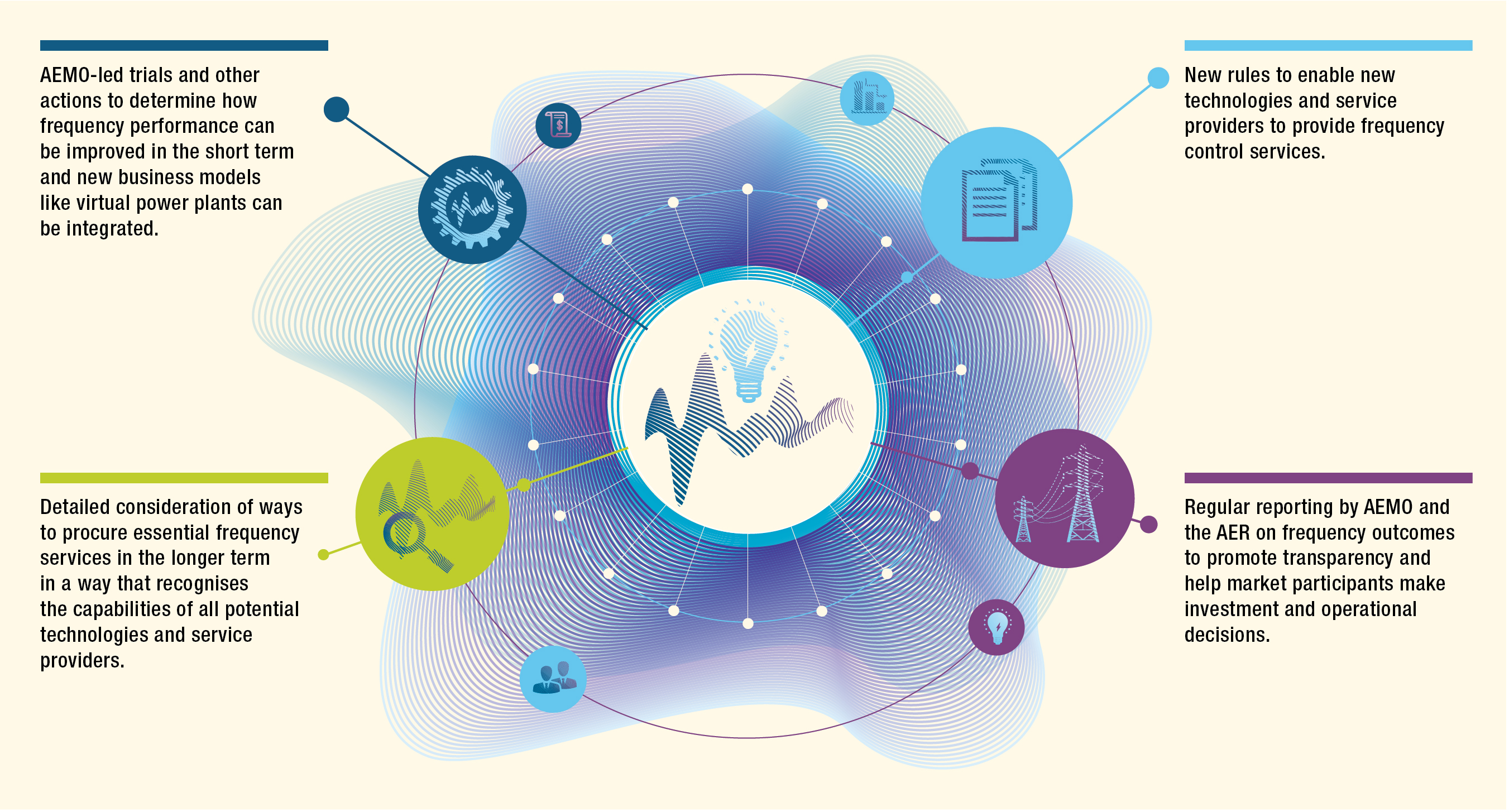 The final report for the frequency control frameworks review included a collaborative work plan that set out a series of actions that would be progressed by the AEMC, AEMO and the AER. An overview of the status of this frequency control work plan is provided in the table below:
Action
Status
1.AEMO-led trials and other actions to determine how frequency performance can be improved in the short term and to facilitate the integration of new business models like virtual power plants

AEMO, AEMC and AER to establish a virtual power plant program in the national electricity market to understand the technical and regulatory requirements associated with virtual power plants providing frequency control ancillary services (FCAS) and energy and network support services

Ongoing
AEMO published a consultation paper in November 2018.
In July 2019 AEMO launched its trials to demonstrate the operation of virtual power plants (VPP).

For further information refer to AEMO's Virtual power plant demonstrations page.

AEMO to conduct a primary frequency control trial in the mainland NEM, building on experience from the Tasmanian trial.

2. Detailed consideration of ways to procure essential frequency services in the longer term in a way that recognises the capabilities of all potential technologies and service providers

AEMO to coordinate changes to generator governor settings following results of the survey conducted in April 2018

Ongoing
In November 2018, AEMO rejected a request from a Generator to widen its plant's governor deadband settings. AEMO will respond similarly to other requests until more permanent measures are in place to halt the degradation in PFR. AEMO has clarified the deadband settings required from FCAS providers and will continue this through revision of the MASS in due course.

AEMO to publish a revised causer pays procedure and frequency interval data closer to real time

Completed.
AEMO published a revised causer pays procedure published by AEMO in November 2018.The revised procedure includes a change to allow causer pays calculations to ignore 4-second samples where the frequency indicator and system frequency in a synchronous area are mismatched.

AEMO to update the market ancillary services specification (MASS), refining expectations for how services should be delivered

Ongoing
AEMO review of the MASS planned to start in Q32019

AEMO to conduct automatic generation control (AGC) tuning as part of upgrade of its energy management system software

Ongoing
Adjustments to AGC tuning were made late 2018, and AEMO has commissioned a further review in mid-2019, which may result in further adjustments.

AEMO to investigate and increase the quantity of regulating FCAS on a static or dynamic basis if necessary

For further information, refer to Factsheet and updates on the AEMO website – Frequency and time deviation monitoring

Industry to establish a set of nationally-consistent grid connection guidelines for distributed energy resources. The guidelines should include appropriate value and incentives for the provision of system security services by distributed energy resources.

Energy Networks Australia (ENA)is developing technical guidelines through stakeholder consultation that will provide transparency regarding the technical requirements for distributed energy resources.
In March 2019 ENA launched the final Basic and low voltage (LV) Connection Guidelines.
Work is underway to produce the next set of guidelines to address medium voltage (MV) and high voltage (HV) connections within the distribution system. These guidelines are expected to be released in late 2019.

For further information refer to the ENA National grid connection guidelines project page.

3.New rules to enable new technologies and service providers to provide frequency control services

AER to submit rule change requests on:
- AEMO monitoring and reporting offrequency performance
-AER monitoring and reporting on FCAS market performance

Complete
In July 2019 the Commission made a final rule which establishes ongoing reporting requirements on AEMO in relation to the frequency and frequency control performance; and on the AER in relation to the performance of frequency control ancillary services (FCAS) markets. The rule will commence on 1 January 2020.

AEMO to submit a rule change request to allow Small Generation Aggregators to classify small generating units as market ancillary service generating units

AEMO, in collaboration with the Commission and the AER, is exploring aggregator frameworks for participation in FCAS markets through VPP demonstrations.

Reliability Panel to publish a final determination on stage two of the Review of the frequency operating standard

AEMO to assess the longer-term needs of the power system taking a holistic view of inertia, primary and secondary frequency control and any new needs. This will include assessing whether interim measures might be needed before long term mechanisms can be established.

Ongoing.
In September 2019 the AEMC started consultation on a rule change request from AEMO proposing that all registered generators in the NEM provide primary frequency response outside of a narrow band either side of 50Hz.

The AEMC to consider how the frequency requirements in relation to the maintenance of a satisfactory operating state are specified in the NER and the frequency operating standard

The AEMC to develop a mechanism to incentivise the provision of sufficient quantities of primary frequency control services (and other services) informed by outcomes from trials and international approaches.

Ongoing
In September 2019 the AEMC started consultation on three rule change requests in relation to the provision of primary frequency response (PFR) in the NEM.

For further information refer to the AEMC rule change pages:

Reliability Panel to make further updates to the frequency operating standard when needed.

4.Regular reporting by AEMO and the AER on frequency outcomes to promote transparency and help market participants make investment and operational decisions:

AEMO to monitor and report on frequency outcomes on a voluntary basis

AER to report on FCAS markets performance

AEMO held stakeholder meetings in relation to frequency control in the NEM on:

26 November 2018
17 December 2018
Various meetings during February – April 2019 in relation to potential rule changes
18/20 June 2019 – PFR rule changes
25/26 August 2019 – PFR rule changes