Reliability frameworks review: recommended actions
Next steps to underpin a future power system that is reliable
The recommendations of the Reliability frameworks review's final report were released 26 July 2018. They are about developing specific, targeted solutions to deliver the certainty of supply that customers want, at the lowest possible cost.
The Commission has and will continue to improve the regulatory frameworks that support the delivery of reliable electricity supply. These actions will encourage the efficient use of new technologies and businesses models to meet the needs of consumers at lowest costs, now and in the future.
This work addresses the need for the power system to be able to comprehensively meet consumer needs at the lowest cost before the operator has to step in to intervene with higher cost safety-net options.
A key part of this work clears the way for energy users to participate directly in the wholesale electricity market to deliver lower-cost reliability. The Total Environment Centre (TEC) and Public Interest Advocacy Centre (PIAC) have committed in their submissions to submit a rule change request. 
Australia's power system is in transition to a new mix of generation sources as more wind and solar power and demand response enters the market, while old generators are closing at the end of their economic lives. As the generation mix changes, the AEMC proposes to expand the regulatory framework to encourage efficient adoption of new technologies and demand response, supported by more transparent forecasting, to help deliver system reliability.
It's essential that our regulatory framework  encourages the right amount of investment in the power system's long-term capacity. These recommendations support a clear investment signals for the right generation to be built to support consumer needs. 
The final report recommends adoption of a new mechanism for consumers to offer demand response in the wholesale market, to be informed by AEMO and ARENA demand response trials. 
Energy users can play a vital role by turning off or reducing power use at very high demand times. This can help keep costs down by avoiding unnecessary investment in generation that's only used for a few days a year. That's why the Commission has recommended actions to remove barriers to demand response and give service providers additional tools to make it easier for consumers to choose to 'power down' in response to price signals from the wholesale market.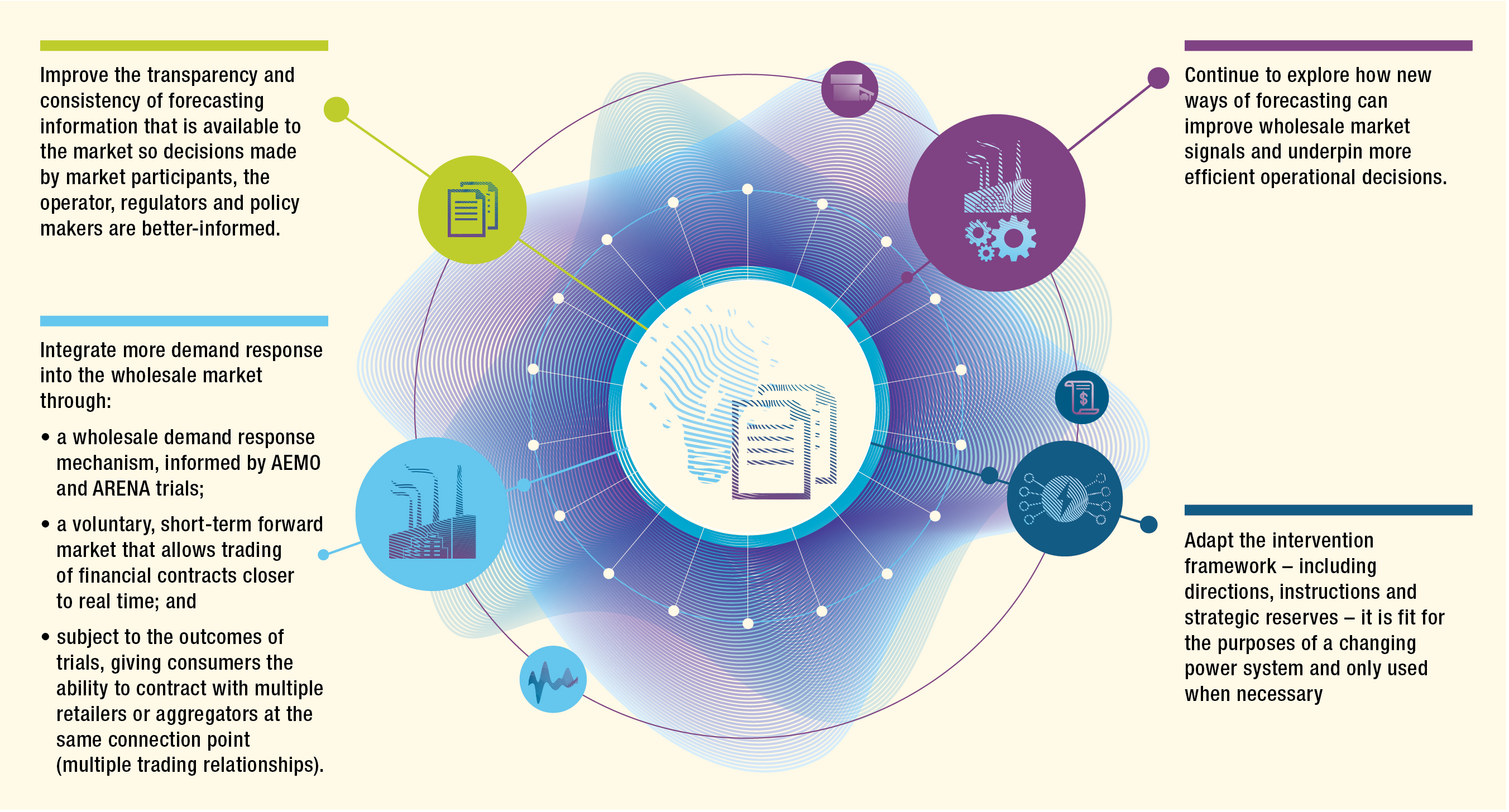 Download the above image of the recommended actions.
Recommended actions