Frequency control frameworks review: recommended actions
Next steps to underpin a future power system that is stable and secure
The recommendations of the Frequency control frameworks review's final report were released 26 July 2018. The report details actions the Commission, the Australian Energy Market Operator (AEMO) and the Australian Energy Regulator (AER) will take to support better frequency control.
The work undertaken as part of this review adds to the toolkit we've already put in place to address the challenges of intermittent generation. There are two parts to this. The first is making changes now that help inform on-the-ground decisions for generators, large users, retailers and the market operator, and future policy decisions. The second is making further changes that might be needed to improve the stability of  electricity supply in the future once evidence is in from trials AEMO will be conducting, such as on integrating virtual power plants.
Stable frequency is an important part of maintaining a secure power system. Frequency varies whenever electricity supply does not exactly match consumer demand and uncontrolled changes in frequency can cause blackouts. The report includes actions to make the most of existing equipment as well as harnessing the power of new technologies to help keep the power system stable.
As the generation mix changes we need new ways to control frequency to deliver better frequency performance across the system. This will include new rules and operating techniques, and more transparent and regular reporting of frequency performance to inform investment and operating decisions.
To date, the AEMC has made five rule changes, and two more are underway, to address the immediate system security needs  of the transforming system. This includes requirements for networks to provide minimum levels of inertia and system strength, and new 'last line of defence' schemes to help AEMO better prepare for, and respond to, a system security emergency.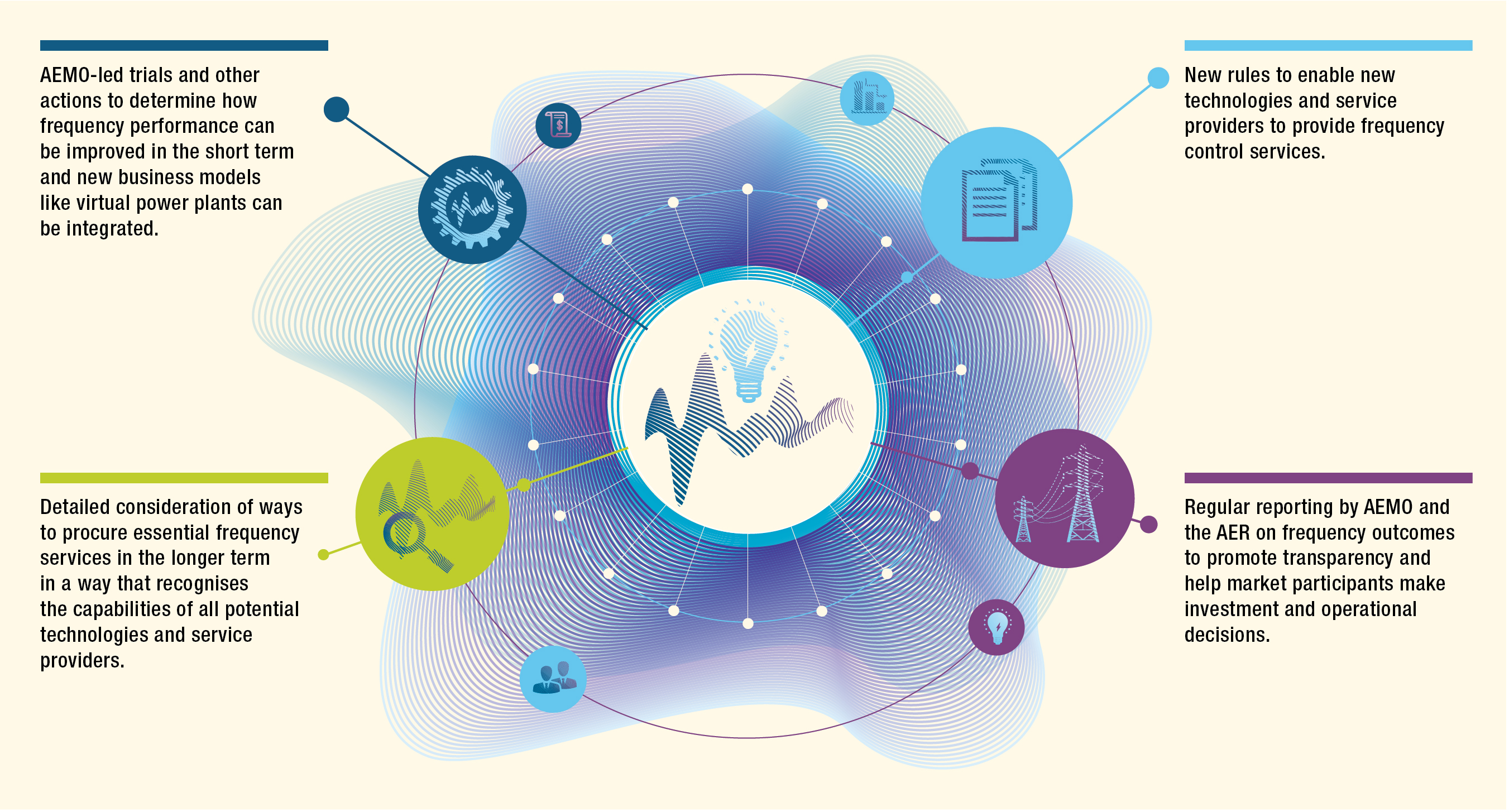 Download the above image of the recommended actions.
Recommended actions